Freska Produce Showcases New Items at PMA Fresh Summit
Tuesday,
October
16th,
2018
A juicy mango just isn't the same in the car or other on-the-run scenarios. With snacking and consumers' desire to remain healthy while doing so at an all-time high, Freska Produce has a way to sate those needs.
"We will be displaying something new this year at PMA Fresh Summit in our Dried Organic Mangos and Dried Pineapples," Chuy Loza, Managing Member and Co-Founder, shares with me, explaining the trends that prompted the move.
"Pineapples continue to climb as a popular snack on its own, and mangos are the most popular fruit in the world. What better to have on-the-run than those dried for use, able to have in just about anything you can use for fresh mangos or pineapples? Only these last for up to 12 months. Both are all natural with no additives. Just 100% real mango and 100% real pineapple."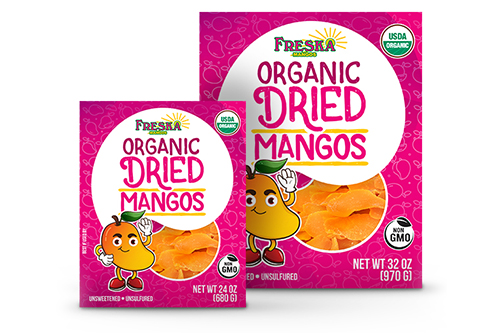 As many might be aware, Chuy knows a thing or two about mango and other complementary tropical fruits, having recognized the growth potential for the category almost 15 years ago. Now, the company will offer them preserved and ready for on-the-go consumers in a resealable package.
"These resealable bags will come in differing sizes based upon retail preferences," Chuy explains.
These newest items are available now, and those who swing by booth #1681 at Fresh Summit this week will get the first glimpse.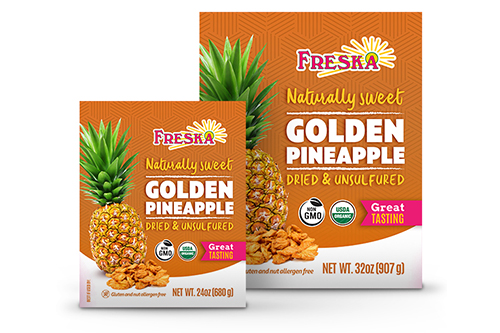 "We have chosen the PMA to announce these offerings as it's a great time to get it in front of the industry decision makers. We feel these are hot commodities that are not only good for you but bring great value to both the consumer and retailer. There is going to be tremendous growth in this category by offering great packaging with a great product inside," Chuy says.
Find out for yourself in Orlando, Florida, this weekend, Oct. 19-20, at Freska Produce booth #1681.