Freska Produce International's Gary Clevenger Provides a Rundown of the Spring Mango Season and Retail Opportunities
Wednesday,
April
7th,
2021
Often synonymous with tropical getaways and warmer climes, mangos are continuing to grab more shopper attention as they look for new ways to incorporate exciting, versatile ingredients into their healthy eating plans. For retailers, the category's vibrant colors offer a creative way to make produce aisles pop. As mangos continue to expand their market share, Gary Clevenger, Managing Member of Freska Produce International, pulls back the curtain on key opportunities for retailers to rack up shopper dollars through creative merchandising this spring.
"Mangos are becoming more mainstream every year; they're now a year-round product that is getting the attention they deserves," explains Gary. "Mangos are such an impactful, dynamic fruit, offering numerous health advantages and menu diversity. With the weather warming up in some places, this fruit has that tropical taste people like and makes them think of the coming summer months when mangos will be plentiful."
To get the ball rolling on promotions this season, Freska has a good supply of Tommy Atkins and Honey Ataulfo mangos coming primarily from its Mexican growing regions. With the delicious flavors of these unique varieties, Gary urges retailers to use the company's many retail support tools to tempt not only new customers but returning shoppers as well.
"We offer colorful display bins as well as point-of-sale materials that can be included with the displays along with QR-coded recipes," says Gary. "Make sure the displays are big, because mangos create a great visual that is very eye-catching to consumers. Also, educate in-store employees on the virtues of the mango and its benefit and work with your shippers to negotiate great price points that will drive sales, especially during times when there are plenty of mangos."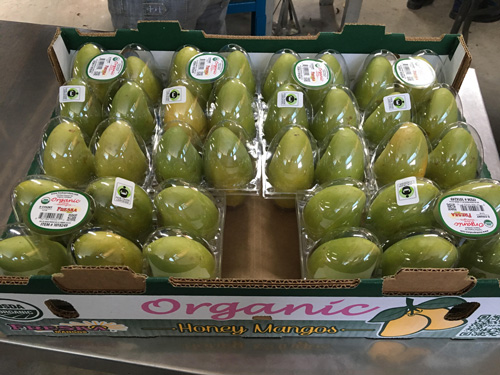 To achieve the large, attention-demanding displays that Gary mentions, he recommends having at least two display points, one with red and another with yellow fruit to add some extra visual appeal. He also advises retailers to include a mixture of ripe and green fruit to offer consumers variety in terms of shelf-life.
As spring has arrived, cross merchandising is another key to reeling in shoppers as they look for new offerings to add to their seasonal lineup. Presenting vibrant mangos alongside rich, red strawberries not only entices consumers but gives them the perfect ingredients for a simple, refreshing dessert when topped with whipped cream or ice cream.
With peak mango supplies right around the corner, start planning your displays to maximize register rings and take advantage of this growing category.