Freska's Gary Clevenger Discusses Outstanding Mango Supply
Wednesday,
February
19th,
2020
Mangos are one category that few growers specialize in. Be it the specialty allure or the challenge that is growing a perfect mango, it takes a determined and dedicated company to harvest this fruit. Freska Produce International is one example of this, importing and growing its mangos year-round. Managing Principal Gary Clevenger is eager to push Freska's premium mangos in the retail sector as the company's season is now in full swing.
"Currently, there is a plentiful abundance of fruit from Peru. This is the time of year when one of the best varieties is being imported to the U.S. Both coasts East and West are offering Kents," said Gary.
Freska has vast experience with importing mangos thanks to its dedication and investment in this program. According to Gary, the main varieties being harvested are Tommy Atkins and Kents with some Ataulfos as well, all of which are exhibiting outstanding quality.
"Importers are all looking for retail support for the next few weeks to get through some arrivals on both coasts," he added. "Some retailers can even offer two sizes of mangos. They can leverage cash register displays by the case for impulse buys. Most of the fruit arriving is ready to eat, so there is little to no time needed to let the fruit ripen."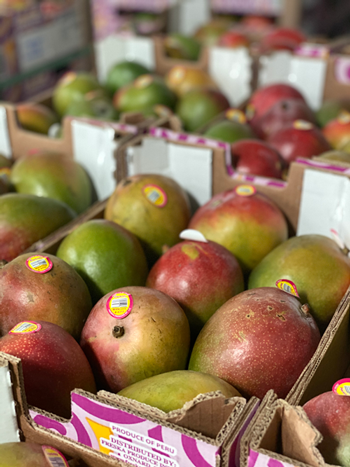 The company prides itself on being a superior retail partner in that customer service remains an everyday constant. With high-quality mangos being a rather tough category to tackle, this customer service is of utmost importance in bringing fresh produce to the U.S. market.