Freska Produce International's Gary Clevenger Discusses the Steady Mango Market
As we move further into the summer months, retailers will be looking for those fresh produce items to cross-merchandise with other seasonal goodies. Mangos are one such goodie that stands out in both the produce aisle and beyond, as its necessity as a poolside sweet during the hottest months of the years can't be contested—by this trade news writer or Freska Produce International.
I chatted with Gary Clevenger, Managing Principal, to learn about Freska Produce International's Mexican mangos and Ataulfos, which the grower is currently bringing to market from its Central Mexico growing regions, Jalisco, Nayarit, and Sinaloa.
"Now is a good time to begin mango promotions for the next couple of months. Summer is a great time to enjoy the flavor of this tropical wonder that helps our immune system and so much more. I can't think of a better way to take care of yourself during this time of COVID-19," Gary shared with me, listing but a few reasons why mangos should be at the center of displays this summer. "Quality has been very good. There seem to be more Ataulfos available right now, but there will be red varieties coming in a couple of weeks."
In addition to good quality, Freska Produce International is also anticipating good volumes just in time for those hot June and July promotions. Both quality and volume could be attributed to the pleasant weather, which Gary noted has not been much of a problem this year so far.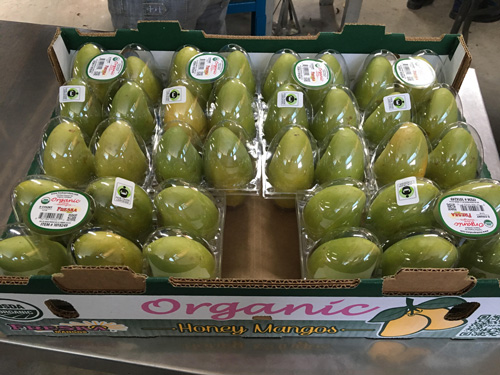 Demand is also on an upward swing, which, when paired with the promotional volumes Freska Produce International is rearing and ready to provide retailers, is spelling a hot summer full of mango sales.
"We have seen good demand but lower volumes on our red varieties, while we have good promotional volumes on Ataulfos. Despite prices trending down on both, we have seen a good market. Currently, the market is steady with good promotional prices available," Gary revealed. "Domestic demand seems to be doing well, with growth on a year-to-year basis. Our international mango business also is doing well, with shipments to New Zealand, Australia, and Japan helping us increase this part of our business."