Freska Produce International's Gary Clevenger and Jesus "Chuy" Loza Detail Dried Mango Program
Tuesday,
November
15th,
2022
Give them dried mango and they will come. This is what Freska Produce International has learned since introducing its organic dried mangos to the market. The supplier is committed to utilizing 100 percent of its growers' fruit, and the dried mango program is one avenue creating added value for everyone along the supply chain.
"We began dealing in organic dried mangos about five years ago in order to support our growers' welfare, create value for our customers, and sustainably fulfill our vision. Whatever product does not meet the qualifications for retail goes into the dried segment," said Gary Clevenger, Managing Member. "Through this program, a dried product can create just as much value as a number-one-graded, retail-ready fresh product. Growers have alternatives to utilize imperfect fruit rather than tossing it away."
Freska's organic dried mango is 100 percent natural and non-gmo with no sugars added. The product maintains an irreplaceable sweetness and juicy texture while boasting of all the nutritional benefits of fresh mango.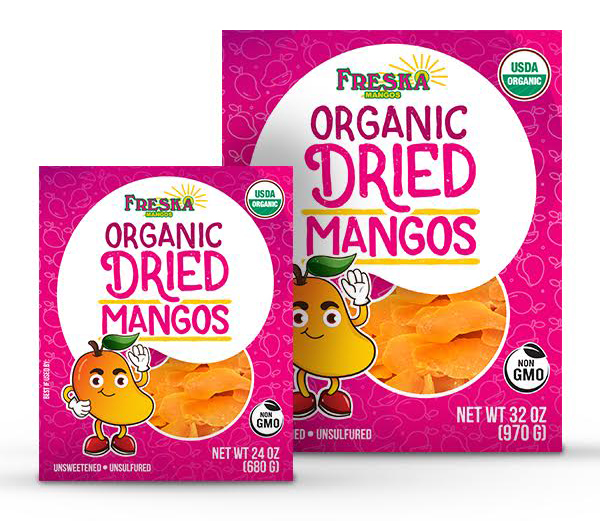 Convenience is playing an increasingly important role in the grocery store, and shoppers want to keep health front and center as well. Freska's organic dried mangos are as simple as 1-2-3-all shoppers must do is open the bag and get snacking! And, with attractive and vibrant packaging to boot, these dried mangos will display effortlessly in many locations.
"Demand in the dried mango category is definitely rising. We are working to produce enough product to meet this high level of demand while delivering a boost to our growers' bottom lines," added Jesus "Chuy" Loza, Managing Member.
Who ever said mangos aren't a holiday staple? Shoppers are getting more creative in the kitchen, and they will continue turning to the golden fruit in any format they can get their hands on. Add some organic dried mangos to your holiday displays and watch as they turn cold weather blues into a sunshine-y sales boost.