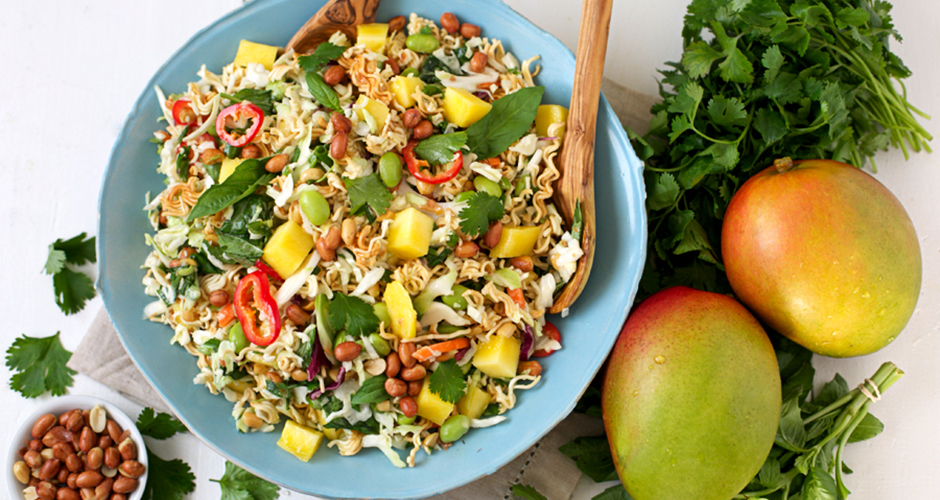 CRUNCHY RAMEN NOODLE SALAD WITH MANGO
Prep Time:

20 min
| Cook Time:

5 min
INGREDIENTS
2 (3oz) ramen noodle packages without the seasoning
1 (8oz) package coleslaw cabbage mix
1 cup shelled and cooked edamame
1 cup mango, diced
½ cup green onion, thinly sliced
½ cup roasted unsalted peanuts, roughly chopped
2 Fresno chilies, thinly sliced 
¼ cup cilantro leaves
¼ cup basil leaves, torn
½ cup canola oil
¼ cup lime juice
3 tablespoons orange juice
3 tablespoons honey
2 teaspoons toasted sesame oil
1½ teaspoon fish sauce
DIRECTIONS
1. Preheat the broiler to low heat.
2. Crumble ramen noodles into bite-sized pieces and place on a baking sheet in a single layer. Toast ramen until lightly golden under the broiler, about 3 minutes.
3. In a large bowl, toss to combine toasted noodles, coleslaw mix, edamame, mango, onion, peanuts, chilies, cilantro and basil.
4. In blender or large bowl with a whisk, combine oil, lime and orange juices, honey, sesame oil and fish sauce, and blend or whisk until emulsified. Add to salad and toss to coat. Serve immediately.
NUTRITION
Nutritional analysis per serving: Calories 477; Protein 11 g; Carbohydrates 34 g; Fat 32 g; 49% Calories from Fat; Cholesterol 0 mg; Sodium 131 mg; Potassium 422 mg; Fiber 5 g