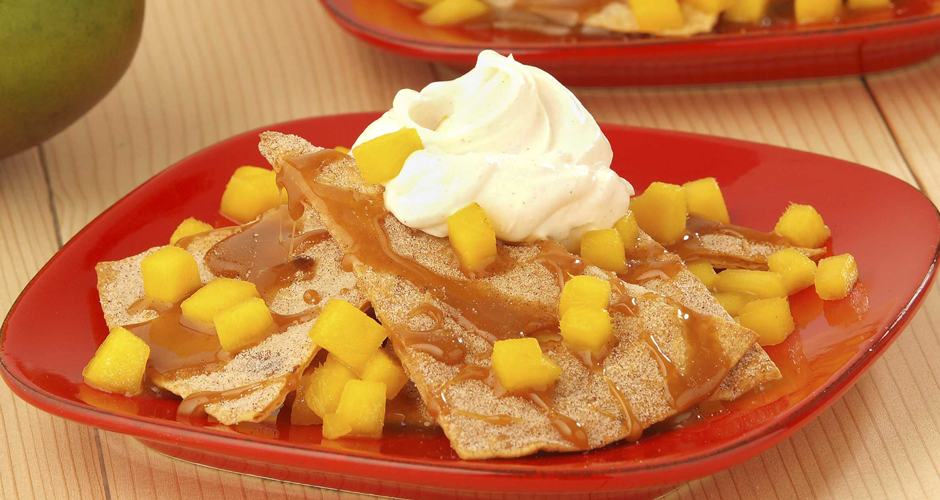 Prep Time:

15 min.
| Cook Time:

10-15 mins.
INGREDIENTS
CINNAMON CREAM
1 cup heavy whipping cream 
2 tablespoons sugar
¼ teaspoon cinnamon
MANGO NACHOS
6 fajita size flour tortillas
Nonstick cooking spray
¼ cup sugar
1 teaspoon cinnamon
½ cup caramel sauce
1½ cup mango, peeled, pitted and diced
DIRECTIONS
1. To prepare cinnamon cream, beat ingredients in a medium bowl with a mixer until stiff peaks form; transfer to a decorative bowl and refrigerate while preparing nachos.
2. To prepare nachos, preheat oven to 400°F. Cut each tortilla into 6 wedges. Working in batches, line a baking sheet with foil or parchment paper and spray both sides of tortilla with nonstick cooking spray.
3. Bake tortillas for 10 minutes until browned, turning halfway through until crisp.
4. Stir together sugar and cinnamon in a medium bowl; add tortillas and toss well to coat. Pile onto a decorative platter.
5. Heat caramel sauce for 20 to 30 seconds in the microwave until thin enough to pour.
6. Drizzle over tortillas and sprinkle with mangos. Serve with Cinnamon Cream.
NUTRITION
Each serving (1/2 cup chutney) contains 271 calories, 61 g carbohydrate (20% Daily Value), 3 g fiber (12% Daily Value), 2 g protein (4% Daily Value), 4 g fat (6% daily value), 2 g saturated fat (12% Daily Value), 9 mg cholesterol (3% Daily Value), 364 mg sodium (15% Daily Value), and 416 mg potassium (12% Daily Value), 50 mg vitamin C (84% Daily Value), 1285 IU vitamin A (26% Daily Value).