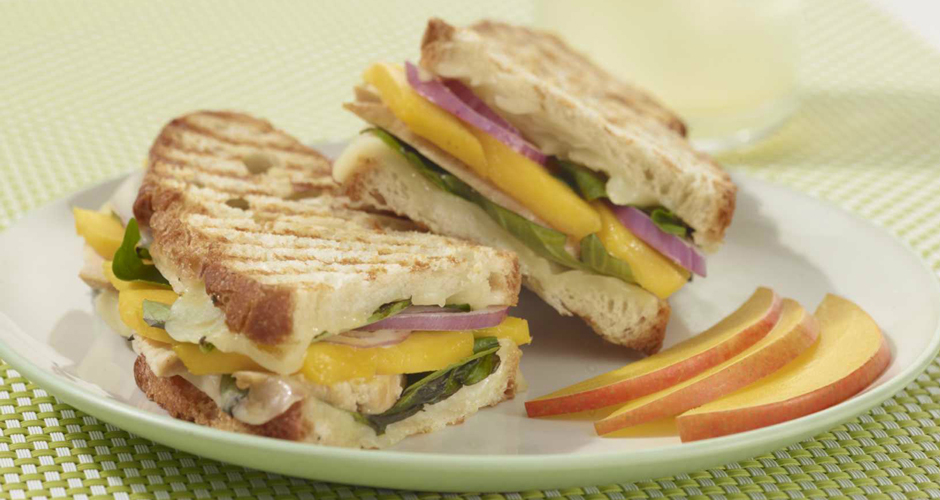 Prep Time:

10 min.
| Cook Time:

30 min.
INGREDIENTS
½ loaf Italian Bread, (8, ½-inch slices)
8 slices (about 6 ounces) deli sliced 
mozzarella cheese to your liking
½ cup whole basil leaves
½ red onion, sliced thin
1 (1 pound) large mango, peeled, pitted and sliced thin
2 cooked chicken breasts (about 1 pound total), sliced thin
DIRECTIONS
1. Layer half of cheese on 4 slices of bread, divide basil, red onion, mango chicken and remaining cheese among bread slices. Top with second sliced of bread.
2. Heat grill pan, panini press or large non-stick skillet over medium-high heat, spray with non-stick cooking spray. Place 2 sandwiches in pan (close lid or weight down sandwiches in skillet with heavy pot). Cook sandwiches until bread is golden brown and cheese is melted, about 4 minutes per side. Repeat with remaining sandwiches.
NUTRITION
Each serving (1 sandwich) contains 438 calories, 40 g carbohydrate (13% Daily Value), 3 g fiber (11% Daily Value), 40 g protein (81% Daily Value), 12 g fat (19% Daily Value), 6 g saturated fat (28% Daily Value), 100 mg cholesterol (33% Daily Value), 746 mg sodium (31% Daily Value), and 644 mg potassium (18% Daily Value), 22 mg vitamin C (37% Daily Value), 1078 IU vitamin A (22% Daily Value), 403 mg calcium (40% Daily Value), 2.6 mg iron (14% Daily Value).