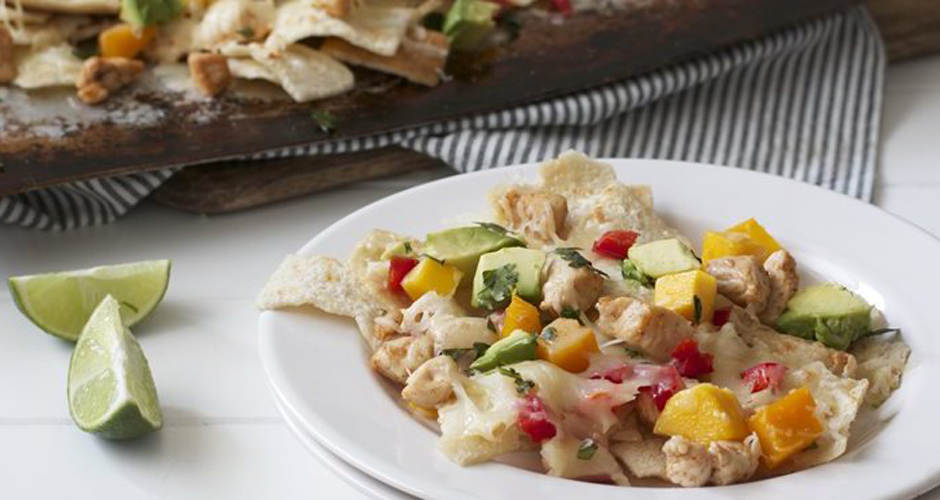 Prep Time:

10 min.
| Cook Time:

10 min.
INGREDIENTS
2 boneless skinless chicken breasts, diced
1 teaspoon chili powder
¼ teaspoon salt
4 cups baked pita chips
1 cup diced ripe mango
1 red bell pepper, diced
2 cups shredded Monterey Jack cheese 
½ cup diced ripe avocado
1 tablespoon minced fresh cilantro
1 tablespoon lime juice
DIRECTIONS
1. Preheat the broiler.
2. In a nonstick skillet over medium-high heat, sauté the chicken until cooked through, about 5 minutes. Season with the chili powder and salt.
3. Lay the pita chips on a large baking sheet. Evenly top with chicken, mango, bell pepper, and cheese. Place under the broiler until the cheese is melted, about 3 to 5 minutes.
4. Remove from the oven and top with avocado, cilantro, lime, and a pinch of salt. Serve.
NUTRITION
Nutritional analysis per 1-cup serving: Calories 570; Protein 49 g; Carbohydrates 30 g; Fat 28 g; 44% Calories from Fat; Cholesterol 150 mg; Sodium 854 mg; Potassium 779 mg; Fiber 4 g