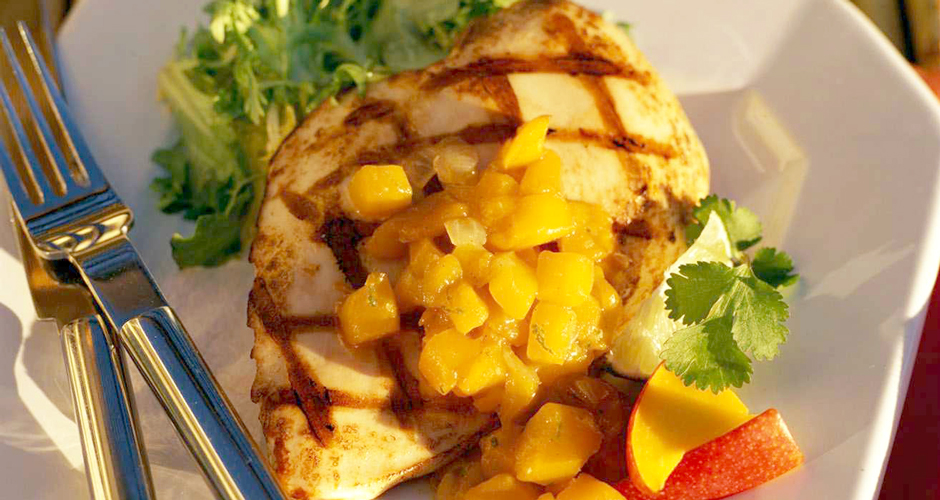 Grilled Chicken with Mango Ginger Chutney
Prep Time:

20 min.
| Cook Time:

40 min.
INGREDIENTS
2 pounds boneless, skinless chicken breasts
1 large ripe mango, peeled, pitted and pureed
⅓ cup balsamic vinegar
2 tablespoons oil
¾ teaspoon salt
2 tablespoons oil
¾ teaspoon salt
½ teaspoon pepper
MANGO CHUTNEY
2 large ripe mangos, peeled, pitted and chopped
½ cup onion, chopped
¼ cup white wine vinegar
¼ cup brown sugar
1 tablespoon fresh ginger, grated
½ tablespoon lime zest
¼ teaspoon allspice
DIRECTIONS
1. Rinse chicken and pat dry.
2. Pierce surface of meat with a fork and place in a resealable plastic bag with pureed mango, balsamic vinegar, oil, salt and pepper.
3. Seal bag and marinate in the refrigerator for several hours or overnight.
4. Combine all chutney ingredients in a medium saucepan and stir well. Bring to a boil; reduce heat and simmer, covered, for 20 minutes.
5. Uncover and simmer over low heat for a few minutes more to cook off excess liquid; let cool. (May be made up to 2 weeks ahead. Store tightly covered in the refrigerator.)
6. When ready to serve, remove chicken from marinade and grill over medium coals for about 5 to 7 minutes on each side minutes, or until cooked through. Serve with Mango Chutney.
Tip: Leftover chutney is delicious when spread on cold or grilled ham sandwiches